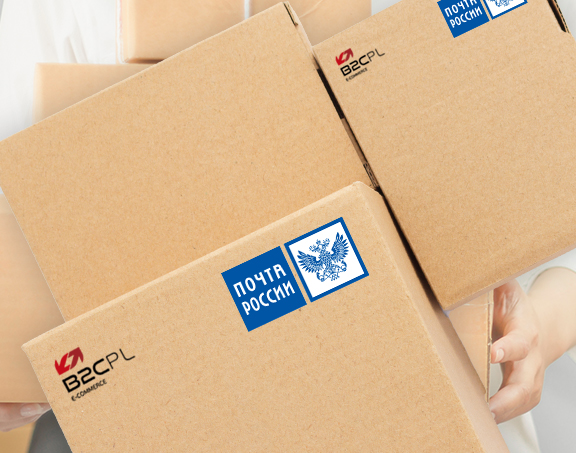 POSTAL DELIVERY VIA RUSSIAN POST FOR ONLINE RETAILERS
Postal delivery via Russian Post for online retailers from B2CPL acts under the principle of a gateway - the online retailers sends us all the parcels (courier, pick-up point, postal) in one lot and B2CPL takes upon itself all further stages of sending and controlling postal parcels.
Those problems of operation with Russian Post, which you probably heard about, become not yours, but our problems. However, we have learned to solve these problems. The online retailer receives all statuses, payments and returns for postal parcels in a convenient form, which have already passed our control; we identify all potential issues ourselves and promptly resolve them with Russian Post directly.
In particular, postal delivery for online retailers allows you to add more than 40 thousand pick-up points to your service area (as much as the number of post offices in the country), many of which are the only ways to receive parcels in towns and smaller settlements where customers of your online shop live.
Just indicate the possibility of postal delivery on the online shop website! For the convenience of your customers, you can place our tariff calculator (available through API), which will check the possible delivery methods (courier, collection from pick-up points, postal delivery) and calculate the tariff for each delivery method. Another possibility - you can do without the tariff calculator by assigning our Call-Center to phone around orders, and in this case the choice of the delivery method and tariffing is performed by the Call-Center operator.
All major online retailers and market leaders use Russian Post and now you get the same opportunity, moreover, without difficulties!
WE HAVE JOINED THE SERVICE "PARCEL ONLINE" - NOW DELIVERY BY POST IS CHEAPER.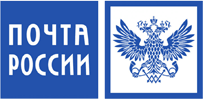 B2CPL is the federal client of Russian Post and provides its customers service of delivery via Russian Post for online stores.
WE PACK, CHECK, EXECUTE DOCUMENTS
We support all popular types of parcels and book posts - from simple ones to 1-st class shipments.
We pack (complete packing) parcels according to the standards of Russian Post
We check the weight, print and execute all the necessary shipping documents.
Control of the postal delivery process for online retailers, hand delivery and receipt of payments or refunds.
We cooperate with Russian Post at all stages of the process, we ourselves automatically identify and solve problem cases when delivering via Russian Post, including "hung up" payments and parcels.
Orders are sent via Russian Post the next day after their arrival at our Distribution Center. Sending is performed through the junction distribution centers of Russian Post (ASC of the Central region for parcels from Moscow, ASC of the North-West region for parcels from Saint-Petersburg), which speeds up their delivery.
COLLECTION OF RETURNS (REJECTIONS)
We collect returns (rejections), check their safety and send them back to the online retailer. Itemized control of the contents of returns, rejection, repacking and safe storage of goods are possible.
INFORMATION SUPPORT AND TRACKING
All customers are informed by SMS and Email about the fact that the parcel has arrived at the post office in their city (settlements)
Customers can independently track the stages of delivery online on our tracking website.
ДIn addition, we offer the service of notifying the recipients of postal items by our Call-Center, which allows us to reduce postal returns to the level of returns from ordinary pick-up points, which you probably use. 
The cost of the service is 70 RUR per parcel.
TRANSFERS IN IDENTIFIED FORM
We consolidate and transfer the collected COD transfers to the account of the online retailer in a convenient, identified form.
RESULT
1

Timely receipt of payment for orders
(COD) or returns, all issues of "hung up" money or returns we solve with Russian Post ourselves
2

No additional logistics expenses
- postal parcels are sent to B2CPL in a single lot together with courier ones, and we ourselves hand them over to Russian Post (directly to the Main ASC in Podolsk, which speeds up delivery), as well as with the printing and execution of all shipping documents necessary for Russian Post.
3

Minimize returns
- we have learned to cooperate with Russian Post in such a way that the share of purchased orders is close to the data of pick-up points;
4

Receive data on statuses, payments and returns
with the identification of orders in the same convenient way and in the same format (API, reports, etc.), as the exchange of data on courier parcels and pick-up points is executed, as well as to tariff parcels easily, showing a customer the tariff and delivery terms in the calculator;
5

B2CPL completely takes upon itself control of cooperation with Russian Post
the online retailer will not need additional efforts and time to administer and control the delivery of postal parcels and return payments;
6

Increase of turnover by 20-30%
online retailer without additional expenses - due to the possibility of low-cost delivery to those areas where other delivery methods are impossible or expensive - just inform about this possibility on your website
ADVANTAGES

a customer will receive
for his postal parcel
web tracking + SMS notifications
in a similar manner to courier parcels

a customer will pay a fee upon receiving the parcel on average
3-7% less
(from the order price) - this will be possible in consequence of B2CPL discount from the standard postal fee (in the regions it reaches 5-9% of the amount of COD, but for B2CPL parcels it will be only 2% for the recipient);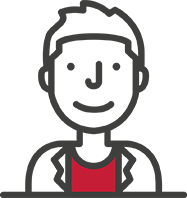 a customer will get the opportunity
to choose delivery via Russian Post
in online shop in such areas where there are no alternative delivery methods or they are much more expensive than postal one;
​Расширяйте географию

доставки товаров вашего интернет-магазина с помощью почты России
Вы хотите по максимуму охватить все города и населенные пункты страны? В таком случае вам поможет доставка товаров через почту России. С компанией B2CPL вы забудете обо всех сложностях и проблемах, связанных с почтовыми отправлениями, а ваши клиенты смогут выгодно и быстро получать посылки.
Доставка товаров для интернет-магазина почтой России откроет для вас те районы, где нет других альтернативных способов доставки. Кроме того, доставка почтой до сих пор остается одним из самых бюджетных вариантов, которым пользуются все категории населения.
​Расчет доставки для интернет магазина почтой России
Вашим покупателям будет просто рассчитывать стоимость доставки, сравнивать варианты и выбирать наиболее выгодный – достаточно установить тарифный калькулятор. Также выбор оптимального тарифа можно доверить операторами нашего колл-центра, которые будут прозванивать ваших клиентов и делать расчет доставки интернет-магазина почтой России, курьером или самовывозом.
B2CPL полностью берет на себя контроль работы с почтой России и гарантирует успешную доставку всех ваших посылок. Заказать услугу вы можете, оставив заявку через сайт или по телефону.
Воспользуйтесь другими нашими услугами